Jenny Jared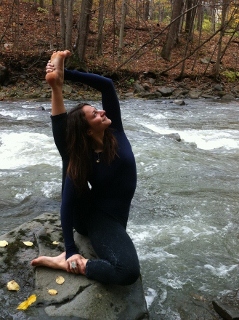 Jenny is a native New Yorker who has been practicing Vinyasa yoga for more than 10 years. She has created a practice fusing a playful sense of flow anchored by a foundation in strong asana. Jenny is nearing the completion of her E-500 RYT certification under the guidance of her beloved teacher Shiva Rea in her innovative Prana Flow method. Jenny is also honored to be in Shiva's Assistant Program, and is working with her in workshops and teacher trainings around the world. She is also a Director of New York Yoga's 200-Hour Yoga Alliance Teacher Training Program.
Jenny finds inspiration for her sequences in the vibrant New York Yoga community, and is dedicated to offering an intelligent and creative flow focused on diving deeper into the practice through peak poses and a sense of cosmic play. Jenny's teachings offer limitless variations, enabling students of all levels to expand their practice, feel fully embodied, and dissolve their boundaries. In addition to teaching Yoga, Jenny is an accomplished practitioner of Thai Yoga massage, receiving multiple certifications through the Lotus Palm School of Montreal.
"Your essence is gold hidden in dust; To reveal its true splendor You need to burn in the fire of Love."
- Rumi