Whitney Chapman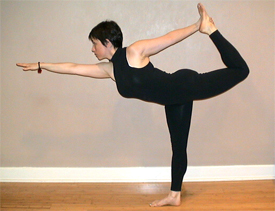 Whitney Chapman is an Interdiscipinary Yoga™ trained instructor who has been teaching various movement modalities for over 20 years. Whitney holds numerous certifications including Yogilates™, Pilates Mat, M.E.L.T. Method™, and Self Awakening Yoga™. She teaches anyone who is interested in "getting on the mat" - from ages 5 on up!
Recently, she has been asked to create a yoga program for individuals with Parkinson Disease for the NYU/JCC Living Well with Parkinson program. "I love teaching at New York Yoga, as I find the students interested in learning about the practice and how the practice affects their lives off the mat. I tell my students that they are my teachers - and they are - because they encourage me to find new ways to express an idea, to teach an asana and to be with 'what is'.
Our time on the mat is our opportunity to discover more of who we are, of what we are capable of and where we would like to be. It is always a reminder of being present with whatever 'is' in that moment...and how the next moment can be something completely different. And if we can find some joy and laughter as we go along...that our practice and lives can be that much richer!"