Linda Winnick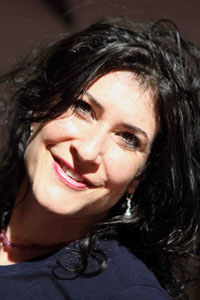 Linda Lalita Winnick is the owner of Shakti Yoga Studios in Upstate New York. She has developed Shakti Yoga, a style based on her extensive teaching experience and over 25 years of practicing yoga. After studying with multiple lineages, teachers and styles of yoga, Linda has extracted what she has found to be a succinct method of teaching based in human movement principles and the energetics of Ayurveda that can be adapted to all levels of ability. As she is not bound to lineage, but embraces all, she works with creative asana sequencing, vinyasa Krama, shat karmas (cleaning techniques) and pranayama (breath work) that is imbued with the wisdom of Hatha Yoga, Classical Yoga, and Ayurveda (Indian Medicine).
It is a modern interpretation of Yoga that appeals to students who want a dynamic, creative approach to navigating the body, mind, and spirit. Each class has a specific sequencing principle that is unique to the group dynamic, time of day and season. Classes are spontaneous and have never been duplicated. Linda educates you about your body and mind as you deepen your practice and become better acquainted with yourself.
Her teacher of yoga and body work for the past 8 years is Glenn Black, internationally recognized as a Master Yogi and Body Worker. Linda currently serves as his Body Master Apprentice.
Linda has been training teachers (200 Hour and Advanced 500 Hour) since 2004 years to fill the growing demand. She is committed to the disciple of yoga, focusing on form, alignment, philosophy, and the cultivation of Shakti (Inner Power).
Linda has been a popular workshop instructor with the Omega Institute since 2002 She has also taught at Menla, Ananda Ashram and a variety of local studios. She has trained the therapists at the Emerson Spa on Ayurvedic treatments where she also practices Ayurveda. She is a certified yoga teacher, and has a Master of Arts in Ayurvedic Medicine and Yoga Philosophy and an undergraduate degree in Psychology. Linda has also joined the American University of Complementary Medicine(AUCM) of Beverly Hills, California as director and faculty of the East Coast Satellite Ayurvedic Practitioner Certification Program.