Emily Wolf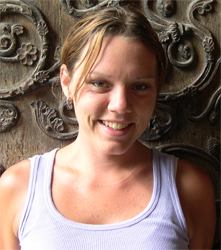 Emily first entered the path of yoga in 1999 while studying Buddhist and Indian religious in college. It was here that Emily was first introduced to the experiencal healing traditions of yoga and meditation. Emily deepened her personal practice through completing New York Yoga's teacher training certification under her primary teachers David Hollander and Michael Gilbert. Emily continues her Buddhist studies at Nalanda Institute for Meditation and Healing with Dr. Joseph Loizzo.
Emily further expanded her practice through a pilgrimage to India and Nepal where she studied yoga asana, sutra, and pranayama with Acharya V. Sheshadri and Dr. V. Nagaraj in Mysore. Emily also completed a one-month Lim-Rim meditation program in a Gelugpa Tibetan Buddhist monastery outside of Kathmandu, Nepal. It was here that Emily took refuge in the 3 Jewels with Lama Zopa Rinpoche.
Emily is currently completing a doctoral program in Counseling Psychology, focusing on the integration of the contemplative methods of Indian yoga and meditation into Western psychotherapy, recovery, and health education. Emily's past work involved a three year study of the effectiveness of meditation in breast cancer survivors, and has devoted her energy to helping others through meditative traditions, yoga and counseling to reconnect with their inner reality physically, mentally, spiritually, and emotionally.
Emily's teaching style focuses on cultivating self-awareness, utilizing the practitioner's unique experience during asana practice as the vehicle for self-exploration. Emily encourages her students to abide in non-judgmental insight through her slow flowing vinyasa classes, and further hopes to imbue her students with the wealth of gratitude she feels for those that have illuminated the path.